Andaman Sightseeing
Home
>> Andaman Sightseeing
Tourist Attractions in Port Blair
A tour among the best places to visit in Andaman and Nicobar Islands should actually start from its capital : Port Blair offers several interesting venues and attractions.
Cellular Jail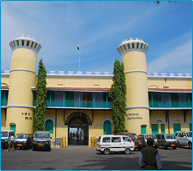 Built over twelve years from 1896 to 1908 and home to hundreds of freedom fighters whose names are now engraved on the walls of its watch tower, the Cellular Jail stands as a symbol of colonial oppression, cruelty and untold suffering. Situated in the north-east corner of Port Blair, it is a national memorial now. The prison fanned out in seven wings, stands three stories high and contained a total of 698 cells. Three wings have been now destroyed to make way for a hospital, but a visit to the remaining can only give an indication of the horrors of incarceration. Daily work routines for the prisoners included the crushing of thirty pounds of coconut and mustard oil; being unable to meet the quota would result in severe punishment shackling and flogging. There are no records of how many died or were executed.
Mahatma Gandhi Marine National Park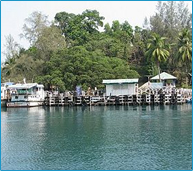 The Mahatma Gandhi Marine National Park at Wandoor is at a distance of 29 Kms. from Port Blair covering an area of 281.5 Sq.Kms. This Marine Park made-up of open sea, creeks and 15 small and large islands, is one of the best found in the world. Viewing of rare corals and underwìde. Every afternoon, between 2 and 5pm, the Water Sports Complex, in north-west Port Blair, close to the Cellular Jail, comes alive with the purr of outboard motors. The is where you can rent a water scooter or speedboat, and ride the waves towards Ross Island, or even be launched into the air on a parasail for a fantastic view of the harbour. Children can be left in the safer haven of a calm seawater swimming pool. Fisheries Museum.The Fisheries Museum near the Water Sports Complex houses nearly 350 species of marine life, including live coral, sharks, polyps and starfish.
Chatham Saw Mill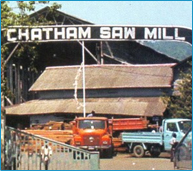 Chatham Island, at the north tip of Port Blair, houses Asias largest saw mill. Dating back to 1836, the enormous workshops are built in the durable (and expensive) padauk wood. Since the 1970s, logging on the islands has been banned and most of the wood now comes by ship from Malaysia, Myanmar and Thailand. A guide will take you through the entire process of the logs being unloaded, sorted, cut, planed and finally stored in vast godowns to be shipped off to the mainland. Huge saws, with 200 to 300 teeth, grind their way for two to three hours before their teeth need to be sharpened again.
Samudrika Museum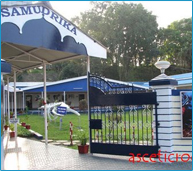 The Samudrika is a museum run by the navy. It is divided into five sections: history of the islands, their geography, people, marine life and archaeology. It houses an impressive display of coral and shells, and a large relief map of the islands topography
Anthropological Museum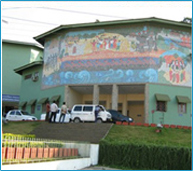 The Anthropological Museum, at Haddo in north Port Blair, was set up in 1975. It displays tribal essentials and artifacts such as boats, weapons, baskets, clothing, photographs, models and records of exploratory expeditions undertaken over the years. A well-stocked library provides the scholar with invaluable references to tribal culture.
Marina Park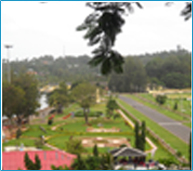 Just adjacent to the Water Sports Complex is the new amusement park offering rides for children and adults alike: giant wheels, paratrooper and dragon coaster. There is also a miniature botanical garden and a statue of Netaji Subhas Bose here
Gandhi Park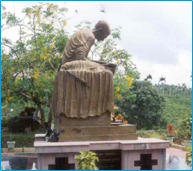 This beautiful park at Port Blair has facilities like amusement rides, safe water sports, nature trail around the lake, garden, restaurant and historic remains like Japanese Temple as well as a bunker. The erstwhile Dilthaman tank, which was the only source of drinking water to Port Blair, and the area around it has been developed into Gandhi Park in an unbelievably short time of 13 days.
Mount Harriet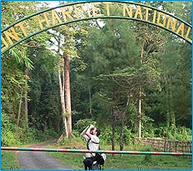 The summer headquarters of the Chief Commissioner during the British Raj, this highest point near Port Blair is an ideal place for a picnic or a trek. About 55 km from Port Blair by road (15 km by ferry and road), Mount Harriet has a Forest Guest House with lovely huts at a height of 365 m. Nice for sunrises and sunsets.
Chidiya Tapu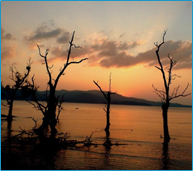 Chidiya Tapu is the southern most tip of South Andaman. The lush green mangroves, forest cover with numerous chirping birds and the Sylvan Sands and Munda pahar beaches make it an ideal picnic site. The forest guesthouse situated on top of a hillock provides a fabulous view of isolated islands, submerged corals and the breath-taking sunset.
Ross Island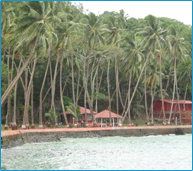 The Ross Island is about 2 km east of Port Blair and can be reached by a short boat ride from Phoenix Bay Jetty. The island is controlled by the Indian navy, which requires every visitor to sign in on entering.The small island with its treasure of ruins in it became the hot tourists spot in the territory. People desire to know more and more about Ross Island.

This Island the erstwhile capital of Port Blair during the British regime, is a tiny island situated few Kilometers away from Port Blair city. The island presently houses the ruins of old buildings like Ballroom, Chief Commissioner's House, Govt. House, Church, Hospital, Bakery, Press, Swimming Pool and Troop Barracks, all in dilapidated condition, reminiscent of the old British regime
North Bay (Coral Island)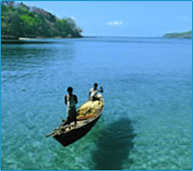 The beach around the island is very famous for under water corals. It is ideal place for scuba diving and snorkeling. Coral island with white sand beaches and surrounded by the pristine beauty of Nature. sea has gifted this island with all the splendor to attract any sea loving human. The Coral reefs are gorgeously decorated by nature to stun the visitor.
Viper Island
Viper Island, named after the ship wreck event of a British trading ship named "Viper" in 19th century, is located near Port Blair. The ruins of an olden discarded jail, built by British in 1867, with yellow colored bricks and the gallows are seen in this Island. The Island was considered as the place of penal settlement for the freedom fighters of India. This Island was part of the great Indian independence history and had witnessed the sufferings and sacrifices of Indian national involved in freedom struggle.
Carbyn's Cove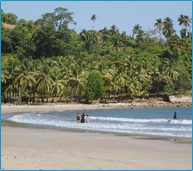 Carbyn's Cove is a serene and unspoiled soft sandy beach in Andaman near to Port Blair. This beach is set in picturesque backgrounds of lush green coconut palms and pleasant sea. Ideal for swimming & sun basking
Andaman Water Sports Complex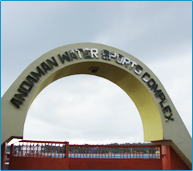 Situated in Port Blair, Andaman Water Sports Complex has become one of the major attractions of the town. It offers safe water sports such as Rowing Boats, Paddleboat, Kayaks and bumper boats. Besides this, the complex also facilitates adventure through Water-skiing, Water scooters, Gemini boats, Para-sailing, Sailboats, Wind-surfers, Speedboats, Glass-bottom boats, etc.
Tourist Attractions in Havelock island
Radhanagar Beach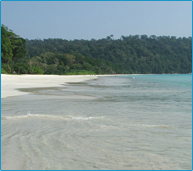 Radhanagar Beach (Beach #7) is the most beautiful on the island and was rated as the best in Asia by Time in 2004. Gorgeous, silky white sand backed by a forest that provides welcome shade looks out over turquoise water, some stretches with a sandy bottom good for swimming and some with excellent coral reefs that are great for snorkeling – a great combination indeed.

Sunsets here are often spectacular and it's a popular time to be at the beach, but be careful not to miss the last trucks back if you're not staying here. A man with an elephant walks through the forest occasionally, offering rides for a fee. Buses run throughout the day until sunset, as do auto-rickshaws and shared 4 wheel-drive trucks. There are a few food shacks where the road hits the beach, all of which rent snorkels and fins.
Kalapather Beach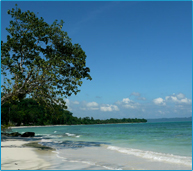 Kalapather beach-it is also one of the well-known beach at Havelock & is considered to be one of the spectacular beaches, White sand of the beach,greenish and blue Sea as the backgrouned looks really inviting for a tourist and the scene is unique for a tourist as all sea does not look like this coloured.
Elephant Beach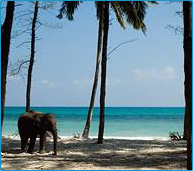 Elephant Beach is further north from Radhanagar and is popular with Indian tourists. The shoreline here was largely swept away by the 2004 tsunami and the beach is a fraction of what it used to be; however, the coral here is probably the best on the island, making this an excellent spot for snorkeling. It's reachable on foot from Beach #7 or by fishing boat from the east side of the island; many resorts arrange snorkeling and diving trips here. A path to the beach starts from the road to Radhanagar — look for a dip in the road on a curve where there will usually be a few motorbikes parked. Several paths head off from this point, ask around for the correct one. If you choose to trek alone through the forest then stick to broad path since there are forks along the way.